| | | |
| --- | --- | --- |
| Actual size | | Framed |

Enlarged for detail: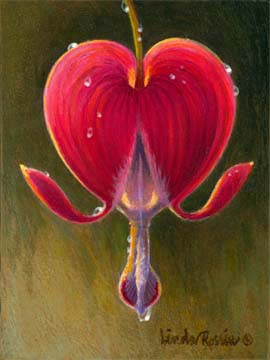 Ode to Joy
Miniature
Acrylic
Image: 2 x 1 1/2"
Frame: 6 1/8 x 5 5/8"
Private collection
Although this may be a miniature it is not considered a true miniature. In order to be a true miniature the subject must be 1/6th of life size or smaller. The bleeding heart in this painting is about the size of the actual blossom. This little piece however is still painted with the same careful attention to detail as in all of my work, whether it is a true miniature or otherwise.