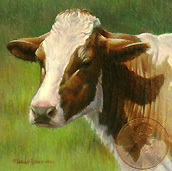 Actual size
Got Milk?
Traditional Miniature
Acrylic
Image: 2 3/8 x 2 3/8"
Frame: 5 x 5"
The unique wooden frame, which caps a traditional molding,
is actual barn siding that was custom-made by Winds of Time Frames.
Private collection
The penny appearing on the artwork is only for scale.
Linda received Best of Show for all entries at the National Show of Cider Painters of America. "Got Milk?" was among her award winning entries at this annual event in PA.