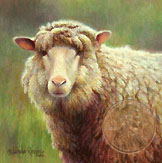 Actual size
Hello Dolly
Traditional Miniature
Acrylic
Image: 2 1/4 x 2 1/4"
Frame: 5 3/4 x 5 3/4"
The unique wooden frame,
which caps a traditional molding,
is actual barn siding that was
custom-made by Winds of Time Frames.
Private collection
The penny on the artwork is only for scale.
Hello Dolly received 1st Place for Birds and Animals from the Miniature Painters, Sculptors and Gravers Society of Washington, DC in their 77th International Miniature Exhibition.