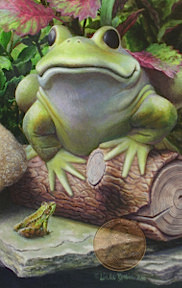 Actual size
Framed:

Hero Worship
Green Frog
Traditional Miniature
Acrylic
Image: 4 x 2 1/2"
Frame: 7 1/2 x 6"
Triple Hand Wrapped Fabric Mats
The penny appearing on the artwork is only for scale.
$1,150 USD
Available through
Decoys & Wildlife Gallery
Frenchtown, NJ
888-996-6501
or visit
www.decoyswildlife.com/gallery/linda.rossin

Hero Worship was featured in the World Federation of Miniaturists Exhibition 2016. The show was hosted by The Miniature Art Society of South Africa and the exhibition took place in February at Hyde Park Corners, Johannesburg, South Africa.
Linda won three separate awards at the 5th Annual Miniatures in Mariposa Art Show, Mariposa, CA and she "croaked" with joy when this little character received First Place for Animals. More croaking was in order when Linda learned she was awarded Best ot Show at Prairie Winds Art Center's 15th Annual National Miniature Art Show for this same little painting.