Boneyard Birdies II was selected for inclusion in the Society of Animal Artists 57th Annual Exhibition, "Art and the Animal" that is currently on display at the Hiram Blauvelt Art Museum in Oradell, NJ now through Sunday, October 29th, 2017. By clicking HERE you can view all 124 works of art in both 2D and 3D formats in the online catalog. Please note: You'll need to scroll to page 15 to begin enjoying the show. This painting was also selected for the 2017 - 2018 National Tour, which just may be coming to your area in the future. To see the venues and their locations, check out page 2 of this online catalog.
My husband loves antique trains, and so do I but for totally different reasons. I'm fascinated with the abstractions formed by layers of peeling paint, rust, textures and the earthen colors of these old workhorses. This particular boxcar provided it all, but it was the repetition and juxtaposition of the various sizes of circles, squares and triangular shapes in negative and positive form that really spoke to me. It obviously speaks to our feathered friends too, as these undercarriages provide safe havens for all those little birds that call these transportation boneyards home.
House sparrows are amongst the most common birds in North America and they live intimately with us in our manmade structures such as building eaves, street lights and nest boxes instead of in natural nesting sites such as holes in trees. They may not be exotic or colorful, but these little hippity hops can sure be fun to watch!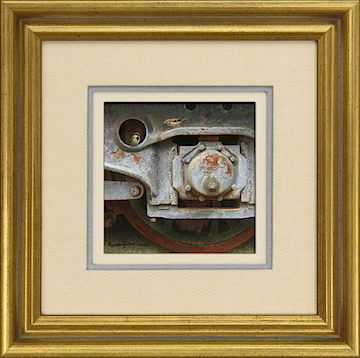 Framed